I know you are probably saying, "Melanie… you already have an Owl and a Bird theme collection!"  Well, if you know me, my decorating ideas change on a whim…and this was one of them.  I created those rooms almost three years ago and my style has since changed.  Don't get me wrong, I still really like them, but I am such a "BRIGHT" girl these days.
Owls and birds are so incredibly popular and because of my perfectionist personality, I had to give you something BETTER.  I wanted you to have more choices with cutouts, patterns, and color combinations.  I wanted to create the BEST owl and bird classroom decor collection on the market.  I really think I achieved that.  In my opinion, these collections are SO beautiful and SO perfect…and SOOOO chock full of decor!  You have so many decor pieces, colors, and owls/birds to choose from…it's crazy!  You are sure to get lots of "oooohhhs" and "aaahhhs" with this beautiful collection!
Behind the Scenes:  E'lisa (my fabulous photographer) and I have a running joke about my photo shoots and the fact that it ALWAYS seems to rain on picture day.  This is NOT a good thing.  We completely rely on the sunshine to give us the light we need to photograph my pictures.  When it rains, it is SO dark in that room.  This is one of the main reasons that I want to move.  I desperately need a better space for pictures!  So…this particular day was very gloomy (you can see that in some of the pictures), but we made the best out of it.  Despite the rain, I think the pictures turned out fabulous!
I made small poms (out of my 15 inch poms in my shop) to create this colorful tree!
 This collection comes with SO many owls, it's unbelievable.  You have scalloped owls, polka dot owls, and editable owls created in gorgeous BRIGHT colors!
 Do you notice the chevron leaves?  These are also included in the collection!  You are going to have the brightest and happiest trees around!  The owl print was also created in several colors and sizes…choose your favorite colors or use them ALL!
 I've also created numerous banners in this collection with different patterns.  This is an example of my WELCOME banner…LOVE this!
 I adore the owls on the daisies!  This is such an amazing focal point in this collection.  Use my branch cutouts (included in the collection) with chevron or polka dot leaves to create a POP of color in your classroom!
 Pennants come in polka dot or chevron patterns.  I've also added owls and birds to each one to create a customized look for your own classroom!
 The stationary set is just amazing!  So bright and colorful!  Christy, my assistant, told me that when she listed this collection in the shop she was going CRAZY over this pretty stationary set!
Pennants also come in a solid design.  I used coordinating ribbon to add a cute detail between each pennant.
All of your decor pieces come in either a chevron or polka dot pattern…
I used the bird cutouts on the paper daisies the same way I used the owls.  This time I used polka dot leaves on my branch cutouts.  I seriously can't get enough of this…I LOVE them SO much!
 This collection is truly breathtaking!
Ahhhhh!!!!  This stationary set is SO cute!  Stationary sets include note cards, thank you cards, monogrammed prints for your desk, editable business cards, Avery label templates, and personalized stationary.
Look at how sweet and delicate these little tags look?  I love them!
I also created large scallops in coordinating colors.  I envisioned using these around whiteboards, windows, your desk, or any place that you want to add some cute detail!  I used them on this easel for a pop of color!
Word Wall labels come in both owls and birds!
Such a gorgeous color palette!  This is surely one way to feel happy while you are at school! 🙂
I feel like I'm getting all "cheeseballish" with this collection, but I am just dying over these birdhouses too!!!  I just love it all!  I envisioned using them to number your tables.
Line your furniture or shelves with the scallops too.  Nothing makes me happier than a pretty ruffle, so these colorful scallops (which remind me of ruffles) feel like such a genius decorating move in my little world!
 Use colorful poms as bird nests throughout your classroom…
Birds were created double-sided (just a little added bonus), so you can hang them throughout your classroom!
There are so many cute little prints in this collection!  I also used coordinating gable boxes for my flower arrangements.
The brown color in my number line is actually a wood/tree bark pattern.  Such a cute detail!
Check out how I used this border?  I combined my lime green Bordette and added a pretty two tone chevron.  By the way, I will be carrying this border in my shop very soon!  Woohoo!
Hands down…my absolute favorite part of this room.  Give me a moment please. . . . . . . .
Okay, I can now move on.  I just needed to stare at it again!
Of course, every collection comes with editable binder covers.
This collection also comes with coordinating frames in several sizes.  I envisioned hanging your student's picture from a branch and labeling the owl with his/her name.  This would also be a great way to display student jobs in your classroom!
I've also created birds and owls as blackline masters for your students to use on bulletin boards or throughout the classroom.  *The blackline masters are sold separately.
  Giveaway!
  Now is YOUR chance to own this beautiful collection along with your bulletin board paper and border from Pacon.  Plus, I'm going to give you coordinating lanterns, poms, or paper daisies to hang in your room too!
I've teamed up with the FABULOUS "Mel D" from  Seusstastic Classroom Inspirations to offer you an amazing prize package!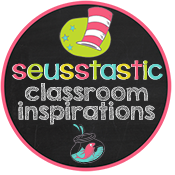 Have you heard of Mel D?
Well, let me tell you…this girl is the QUEEN of social media.  She has some AMAZING pinterest boards!
To check out Mel's boards, click here…
This girl has a "larger than life" personality, very straightforward, and you always know what's on her mind!  Her BRIGHT personality also matches her BRIGHT classroom!  She is not shy about color and adores NEON!  It's funny how our classrooms reflect who we are, right?  If you haven't seen her room yet, you have to stop by and take a look!
So, head on over to Mel D's blog, take a look, AND enter our giveaway!
THE PRIZES:
-The Owl OR Bird full digital collection from Schoolgirl Style
-Fadeless paper from Pacon
-Coordinating border from Pacon
-Lanterns, poms, or paper daisies from the Schoolgirl Style Shop
Over $100 value!

Let's Go Shopping!
Photography: E.C. Campbell Photography
Owl and Bird classroom decor: Schoolgirl Style Shop
Fadeless bulletin board paper:  Schoolgirl Style Shop
Border and caddies: Schoolgirl Style Shop
Pink Chevron Border:  Teacher Created Resources (will be in the Schoolgirl Style Shop soon)
poms, paper daiesies, gable boxes:  Schoolgirl Style Shop
Color My Classroom Birds and Owls:  Schoolgirl Style Shop
Wood Vase:  Save On Crafts
Trees: Carson Dellosa
lamp:  Target
clear plastic paint cans, flowers: Michaels
ribbon:  Joann Fabric
rugs:  Walmart
Paper: Staples (I used a high gloss photo paper for best results)
Most items are editable and can be personalized for a custom look  (Type in your student's names and customize classroom labels…perfect handwriting every time!)