Kids LOVE critters!  They will especially love these cuties.  Each one has such a sweetness to it, that you can't help not to love!  As we were styling this room, we were constantly "ooohing" and "ahhhing" as we hung each one up!  As you go through the pictures, try to find Mr. Grumpy Owl…he makes me smile!  
I always have people in and out of my house while I'm styling a room, and this one seemed to be the crowd favorite!  
Behind the Scenes:   I struggled with a border combination in this room.  Everything I tried didn't seem right.  After several days,  I finally figured it out, unfortunately, it was about 15 minutes before my photographer,E'lisa, showed up at my door.  I had to move quickly and change it fast!  I needed brown border, but didn't have a ton of it.  I quickly started covering up the border I didn't like and ran out half way through. I had to scrounge through my house to find small pieces to staple around the rest of the board.  If you look closely, you can see how I shoved red border in at the last minute too.  You can't see it, but behind the white shelf, I don't have any brown at all…I completely ran out!
Aren't they adorable?
This would be a fantastic way to label tables…the bears, the raccoons, the rabbits, etc.
Use a large ribbon (preferably a wired ribbon that bends easily) to make pretty bows that make a statement!  This adds a layer of cuteness to your decor!
Don't forget your brown nests for your birds!  You can purchase brown poms in the Schoolgirl Style Shop!
Now you can string pine cones without the mess!  What an adorable detail!
I added elements of burlap, wood, fur, and craft paper in my designs when creating this decor package!  How about a fur nameplate?  Tags look like rustic paper, and burlap is used in pennants and nameplates.
Oh my goodness…can this get any cuter?
I created this collection in red and turquoise, but I added hints of green and natural elements in browns to soften the bold color combination.
This collection comes with three different owl designs…here is the first one!
All of my labels are editable…just type in the highlighted field and print!
Using wicker baskets adds texture and authenticity to your design.  Don't forget the adorable craft paper labels (tie with twine) to label your storage.
I HAD to incorporate blue mason jars!  LOVE these!
I purchased the trees from Carson Dellosa, but added my own bold, adorable leaves!  These patterns are included in the collection.
I love this animal pennant banner!  Pennants come in several designs: plain, editable, and with animals.
…and what about these mushrooms???  Speechless.
What does the fox say?  Ring-ding-ding-ding-dingeringeding!
There they are!  Snowy White Owl and Mr. Grumpy Owl!
Don't forget your polka dot gable boxes!  Use these to make an adorable flower arrangement!
Such a magical space!
My full collections include my brand new stationary sets!  Stationary sets include Avery label templates, monogrammed prints for your desk, stationary, thank you cards, business cards, and pretty note cards.
Alphabets come in both penmanship and cursive fonts…
Giveaway!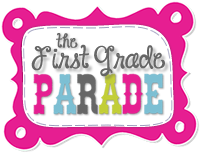 Are you interested in winning this collection?  I've teamed up with one of my favorite bloggers, Cara Carroll.  Cara is the teacher extraordinaire behind The First Grade Parade.  Do you follow her yet?  Oh my goodness…I adore her blog.  Cara has a way of making her followers feel like you're one of  her best girlfriends…this girl is so down-to-earth and SO sweet!  Not only does she blog about her classroom, but about her life as well.  I love following her and reading about all of her life adventures.
When I first started Schoolgirl Style, Cara featured me on her blog and she said the kindest things about my decor.  I gained so many followers from her post and I want to return the favor.  Please head on over, check it out, and enter our fabulous giveaway!
You could win:
-The full Woodland Animal Collection
-Fadeless paper from Pacon
-Coordinating border from Pacon
-Poms/daisies/lanterns of your choice from the Schoolgirl Style Shop
Over $100 value!
Head on over to The First Grade Parade for your chance to win this adorable collection!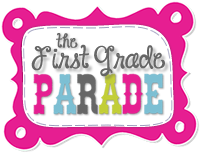 Let's Go Shopping!
Photography: E.C. Campbell Photography
Woodland Animal decor: Schoolgirl Style Shop
Fadeless bulletin board paper:  Schoolgirl Style Shop
border: Schoolgirl Style Shop
lanterns and brown poms:  Schoolgirl Style Shop
red and white polka dot box, red and white polka dot ribbon:  Schoolgirl Style Shop
green lamp:  Target
ribbon, daisy bouquets: Michaels
Wicker basket under easel:  Pottery Barn
Gray stuffed owl: Pier 1
Trees:  Carson Dellosa

Leaves on trees:  Schoolgirl Style Shop
Wooden caddy, wicker baskets:  Joann Fabrics
Wood Vase –Save on Crafts
Wooden Frame, twine –Hobby Lobby
Paper: Staples (I used a high gloss photo paper for best results)
Most items are editable and can be personalized for a custom look  (Type in your student's names and customize classroom labels…perfect handwriting every time!)